Titles are important
.
I was put off reading the hilarious Diary of a Nobody for years because I thought it was going to be a dreary trudge through existential angst. The same thing happened with The Catcher In The Rye (I'm still slightly confused: is a catcher more or less what in cricket I'd call a wicket-keeper? Ah well, at least I know now that in this case Rye isn't the town on the South Coast of England).
I wasn't attracted by To Kill A Mockingbird, either, partly because it leaves one grammatically rather in the air.
Of course all three of these books have done very well indeed. But I still don't think the titles helped.
In the Book That Deserved To Do Better section of The Guardian newspaper there's a piece from a publisher that says: I was stung and puzzled that more people did not read Otto Dov Kulka's "Landscapes of the

Metropolis

of Death".
And I'm afraid I had to laugh.
Look, the purpose of a title is a) to let people know what the book's about, and b) to sound inviting. Landscapes of the

Metropolis

of Death does neither (apparently the book is a very fine meditation on the Holocaust).
But you can't tell what it is from that title, and landscapes and

metropolis

both have a strong whiff of pretension to an English speaker.
A View of the City of Death.
That's a book to send shivers of dread and pity down the spine.
You know, I think I'd have to read that.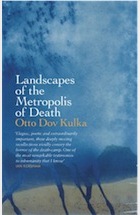 Word Not To Use Today, Especially In A Title:

metropolis

. This word comes from the Greek words m

ē

t

ē

r, mother and polis, city.