'Once upon a time there was a little

engine

called Edward. He lived in a shed with five other

engines

. They were all bigger than Edward and boasted about it. "The driver won't choose you again," they said" '
That's the very beginning of the long series of books by Rev W Audry (and later by his son Christopher) that have become most famous for a character not appearing at all in that first book, Thomas the Tank

Engine

.
I wasn't a fan of the books when I was young. I thought they were boys' books, and I'm afraid I thought the illustrations old-fashioned and garish.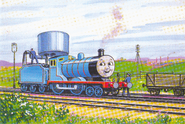 illustration by C Reginald Dalby
Probably the main reason why I wasn't a fan, though, was that I never actually picked up one of the books. If I had, there would have been no chance at all that I wouldn't have read on to find out what was going to happen to poor Edward.
For those of a nervous disposition I must say here that the fate of the big and boastful

engine

Henry is one of the most truly shocking things I have ever read.
As a last recommendation, the books, as I said, were devised by Rev W Audry. That W. It stands for Wilbert. How could anyone resist them once they know that?
Word To Use Today:

engine

. This word comes from the Old French engin, from the Latin ingenium, nature, talent, ingenious contrivance, which is related to gignere, to produce.