Britain and the USA, it has often been said, are two nations divided by a common language.*
You say pants (as the song might have gone) and I say

trousers

...
(though, to be pedantic, I say pants, too. It's just that when I do I'm referring either to rubbish, as in 'it was just pants', or to underpants.)
Anyway,

trouser

. This word, when used as an action, doesn't quite mean to steal, it's more in the region of grasping a dodgy opportunity to increase one's wealth. As in 'we all put in a twenty pound note for lunch and he went and

trousered

the change!'
Or 'what happened to the collection for the orphanage?' 'I expect the council

trousered

it.'
I don't know why, but the use of this word is a source of deep personal satisfaction.
Sadly, though, I don't think the word is ever used of women.
Not even, in my experience, when wearing a trouser suit.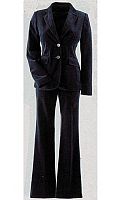 Thing Not To Do Today:

trouser

something. The word trouser comes from the Scots Gaelic triubhas, from the Old French trebus.
*Perhaps originally said by either GB Shaw or Oscar Wilde.