I discovered Withburga the other day.
Well, actually I didn't, because she's been stolen.
And people still bear a

grudge

about it, I can tell you.
Have you not seen all the fuss in the papers?
Ah. Well, that would probably be because the dastardly deed took place in 974 AD.
Here is Withburga. This painting is from Dereham church in Norfolk, England, where she lived and died.
The story goes that Withburga had the builders in, and of course then, as now, builders need snacks to keep them going. Withburga's prayers for food for the builders were answered by a couple of deer, who allowed themselves to be milked.
This was such a nifty trick that after Withburga's death her tomb became a place of pilgrimage - and very profitable pilgrimage, it was, too.
And so the bishop of Ely laid a cunning plan.
He visited Dereham with the ingredients of a huge feast, and once everyone was safely drunk he had Withberga dug up and taken to Ely.
Well, when the people of Dereham woke up and discovered what had happened of course they were furious and they gave chase. There was a huge fight, but the bishop's men knew the tracks through the marshes so well that they managed to spirit Withburga away.
The people of Dereham went back sad, empty-handed, and presumably with hang-overs, only to find when they got home that the place where Withburga had been buried had sprouted a spring of clear water.
A spring. From a saint's tomb...
...someone immediately spotted a business opportunity.
So in the end the people of Dereham came out of the affair all right, for even the bishop of Ely couldn't steal a spring.
But the people never forgave him, and the sign at Withburga's tomb still declares his infamous behaviour.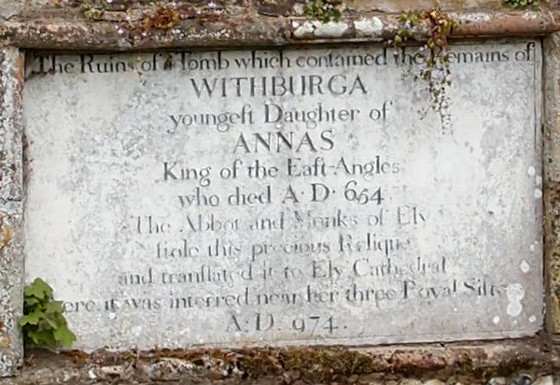 Which must make it one of the longest-lasting

grudges

ever recorded.
Thing Not To Do Today Unless You Can Make A Profit Out Of It And Probably Not Even Then: bear a

grudge

. The word

grudge

comes from the Old French word grouchier, to grumble.